It's a beautiful thing when a bromance blossoms, and is fertilized with an offering of love. Christopher went through all the trouble of creating Charles-Carreon.com, of suing Charles Carreon, of flying to Washington, D.C. to be deposed by Charles Carreon, and even losing his job at Walgreens over his right  to pretend to be Charles Carreon, for one reason — to express his love for Matt Inman of The Oatmeal.
But Matt has never thanked him, probably because Christopher is not very pretty.  Matt is, whatever we think of him, fairly good looking in a gay kind of way. There's a little poetry that's been written about that already by a person who does not wish to remain nameless, but has been advised to do so for his own safety. And don't think Charles wrote it, because it is far too metrically perfect to be his production. I mean, this poem is baroque! But I digress.
We were talking about the sad condition of Christopher Recouvreur's mind. We suspect he has fantasy lovers, perhaps among them, some cute guys.  Just sayin'. I mean, after all, or shall we say after yesterday's decision by the Supreme Court overruling the Defense of Marriage Act, nobody has to be ashamed about any of this stuff. We are what we are. And Christopher is what he is, one twisted motherfucker. So when I depict him in this fashion, as some fool infatuated with a guy who won't give him the time of day, I try to throw in some amenities. Cool wall decor direct from the Matt Inman collection, with the appropriate artistic transformation necessary to satisfy the copyright trolls, and a couple of darling little Pomeranians who are so dumb they would like Christopher. Of course, he probably wouldn't blog nasty things about them.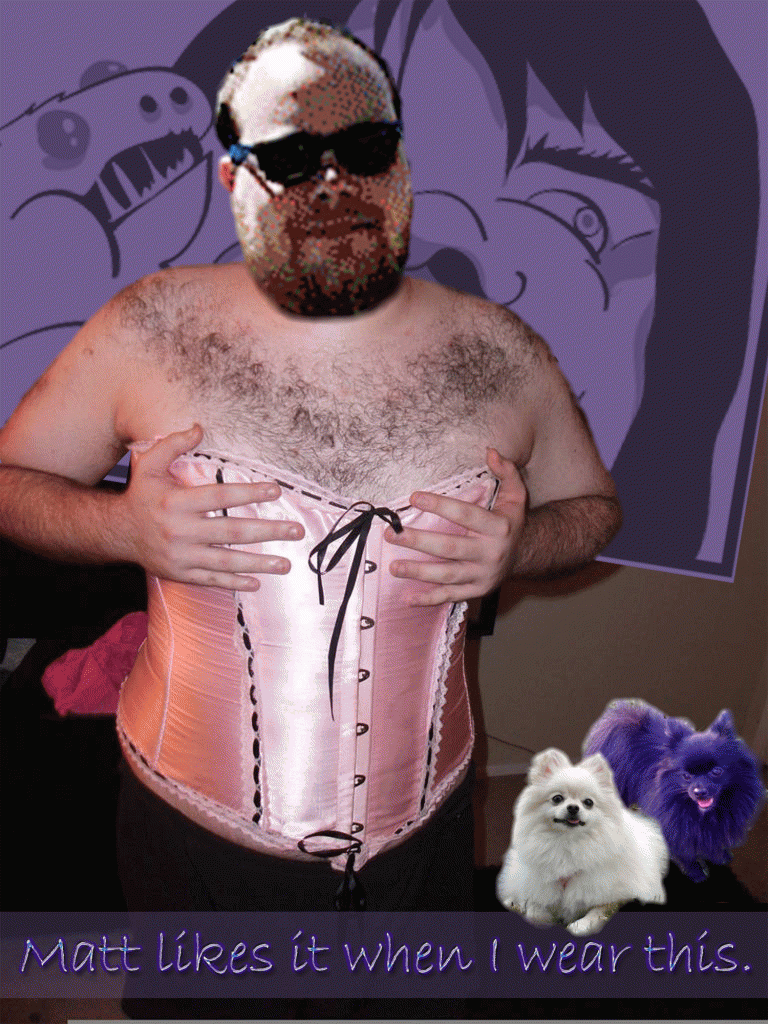 Going Nowhere Fast, by Joey Ramone
Hangin' out with that sleazy crowd,
You're goin' nowhere baby,
They're gonna gonna gonna bring you down
You better listen to what I'm sayin'
Girl, they're gonna bring you down
Ba-baby, ah
I've got to get away
If we're gonna last
You're goin' nowhere fast
You just a bitchy baby
I've got to get away
If we're gonna last
You're goin' nowhere fast
You just a bitchy baby
Hangin' out with that same old crowd
You're goin' nowhere baby,
You're goin' to find out who your friends are now
It's going to drive you crazy
Baby, they're goin' to bring you down
Ba-baby, ah
I've got to get away
If we're gonna last
You're goin' nowhere fast
You just a bitchy baby
I've got to get away
If we're gonna last
You're goin' nowhere fast
You just a bitchy baby
Baby don't let 'em bring you down
Ba-baby, ah
I've got to get away
If we're gonna last
You're goin' nowhere fast
You just a bitchy baby
I've got to get away
If we're gonna last
You're goin' nowhere fast
You just a bitchy baby
I've gotta gotta get away
I've gotta gotta get away
Oh, you just a bitchy baby
I gotta gotta get away
I  gotta gotta get away
Ah, you just a bitchy baby
Ah, yeah
I've gotta gotta get away
Ah, you get so bitchy, baby